Library Media Center Observations Are Underway!
Today marked the beginning of my field experience for my Library Media Certification.  I am happy to report that I picked an excellent day to start observing the goings on in our media center as there were many different projects happening at once.  The LMS was facilitating the administration of the Scholastic Reading Inventory electronically in one of the computer labs with 8th grade students, some of which were quite challenging to work with.  She troubleshooted computer/connectivity issues, helped students login, print results, and directed them to the OPAC to see if the suggested books for them were available for checkout.  The LMS showed me how to do some of these things, including checkout, using the new Surface Pro and scanner.
Simultaneously, there were several students working on a detailed plan and scale model of their ideal sports training room for their Sports Medicine course.  These students needed assistance with budgeting, research, and laying out their projects.  The LMS had been overseeing their progress and since she was tied up with SRI testing, I assisted them when needed.  Substitute teachers on planning periods came down to use the free desktop computers for work-related typing and printing; I fielded questions from them and directed them to the proper resources.  I also tried out the new touch-screen Surface Pro lab to see how I might utilize it with classes that come into the library. It is emerging technology in our district, so there are still a few things that need to be added to it (software) to make it fully functional, but I can just imagine an interactive workshop on research methods or a particular topic in a content area course in this space.
The big idea for me to take awa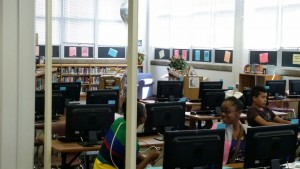 y today, however, really involved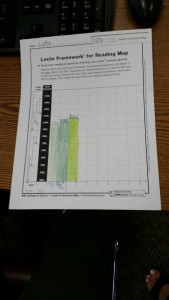 the SRI.  I have always given it in the past, and today I was able to add it to my portfolio for Standard 1.  I learned how to administer it, helped do this, and used the results to help determine the book club and independent reading choices for the students visiting the library.  The book club will be underway soon, and now all seniors, under my guidance, will be assessed on their reading levels as well.  This will be used to help them checkout more appropriate books, but also to give them a good idea of their baseline reading data for purposes of college and career readiness.  This will be an invaluable service for senior teachers across the curriculum as they prepare students to take CCR tests and alternative assessments.
All in all, a very productive day in the library!