Dispositions #2: Values Professionalism
Values professionalism: Professional development and involvement. References and makes use of professional organizations or publications. Willingly participates in professional activities or events that promote professional development.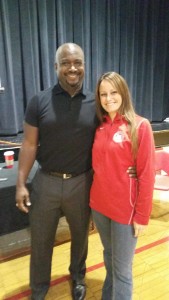 This week, I engaged in a six hour session on professional collaboration with a team of English teachers.  This session was led by a Solution Tree consultant that I respect greatly, Ken Williams.  Former educator and principal, Ken has a way of forcing educators to face brutal truths about their current practices and the culture of their school in order to make the necessary changes to positively affect student achievement.  This is the 2nd session I have had with him, and I got some great ideas for collaboration in the future, both for my own teaching and my future position as a LMS.  We spent time examining our assessment practices, practiced calibrating scoring using student samples, discussed our non-negotiables, and finally decided how we could better wok with the "singletons" in the building to foster whole school collegiality.  It was eye-opening and a day well spent!