Today I am spending another full day in the library media center assisting in all things.  I am working on a marketing campaign for the literary magazine, which I have re-vamped this year for the first time in several.  I made posters for this, hung them up around the building, and sent flyers to the English and arts teachers to advertise for submissions.  We plan, through Journalism, to accept submissions from students, judge and edit as needed, run them by the principal for approval, and publish a complete journal by the end of the school year.  We also want to submit this to the PRESLM competition, which KCTE promotes and judges, so that we can be in the running for some awards.  The students seem to be into this, so that brings more of them into the library and allows for some creative expression.  Win-Win!
I am also facilitating makeups for SRI testing of senior English students today.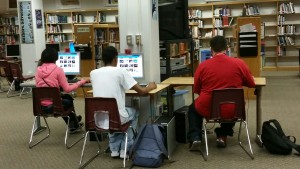 I received confirmation that the first teaching project I have will commence next Tuesday, when the sports medicine students come to the Surface Lab to learn how to use the KYVL databases, to find relevant resources online and in the library, and to use APA style citation.  I am excited to get this project started!  I have scoured the collection for some non-fiction books to pull for their use, but only found three that were immediately relevant.  So, to remedy that, I searched at the Louisville Free Public Library nearest our school for some books to supplement my cart and hit pay dirt! I reserved seven books, so I will add those to the cart for Tuesday's lesson.  Stay tuned for video from that day of teaching.
Update: Here's the video!