This week, I spent time working on the display a bit further.  We have a beautifully horrible graphic with a bit of hologram, the books have all been pulled, the letters printed and laminated, and the area is arranged.  It lacks flair, so I decided we would add some lights and "shelf talkers" for each book, which I began working on as well.  Each of these will be about one-quarter of a sheet of paper with a short review and description of each text, along with a QR code that students can scan to find more information on the books.  Hopefully, these tricks will lead students to check out some of these texts, or at least ask about them.  As we come back from Fall Break next week, and the weather changes, I think the students will be more in the un-dead spirit.
The following are the titles I pulled for the display:
World War Z  by Max Brooks – This text is paired with a crime scene investigation simulation that some of the medical students are taking part in this month.
The Walking Dead: This Sorrowful Life
The Walking Dead: Fear the Hunters
Hold Me Closer, Necromancer by Lish McBride – I have corresponded with this author and may try to host a Twitter chat or SKYPE with her and some interested students.
Zom-B Bride, Zom-B Underground, Zom-B by Darren Shan
Eat, Brains, Love by Jeff Hart
More Scary Stories to Tell in the Dark by Alvin Schwartz and Stephen Gammell
Vampires
The Truth About Dracula by Gabriel Ronay
Vampire History and Lore by Stuart A. Kallen
Be Afraid, Be Very Afraid: The Book of Scary Urban Legends by Jay Harold Brunvand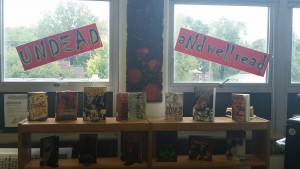 I also made plans for the upcoming teaching day on Thursday.  I will be administering the SRI to all of my seniors to best determine their reading levels.  This information will allow them to have individualized reports that recommend books for Independent Reading and gives me an idea of where to place them for intervention programs offered at the school and public library.