Full Day in the Library Media Center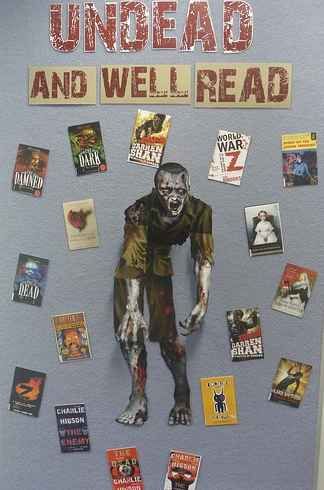 Friday, 9-25, I spent my first whole day in the Library Media Center.  My principal was nice enough to allow me to take a professional leave day so that I could really observe how the daily activities of the LMC work.  I spent most of the day checking in books that had been returned and checking out new ones to students that came through from their English classes.  I was able to meet new students that I do not have the pleasure of teaching, and that was a great experience.  So many interesting and shy students blossom in the library, unafraid to speak to me or the LMS because they have a safe space in which to converse about the thing we all love — reading books of our choice.  Many students with special needs came in to check out books as well.  I learned heartbreaking stories about several students that needed a manual override to check out more than the normally accepted total books over the weekend because that's all they have to do.  This keeps them out of harm's way.  We've all heard the adage that books can set you free or they can save you.  In these cases, it just might be true.
At the request of the LMS, I also researched some seasonal display ideas and came up with a take on the following: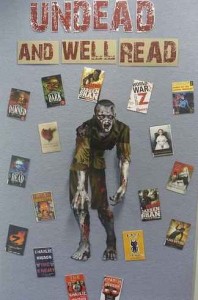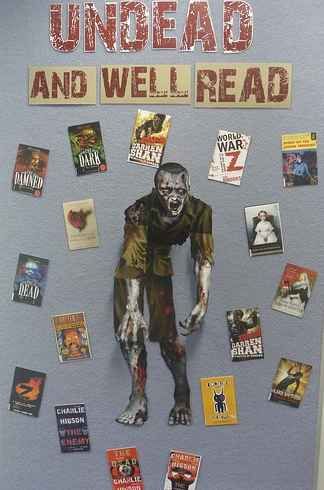 I created the letters, pulled the books, and now I am off to find the zombie, print on parchment paper, and hang it all up.  This is a really fun way to organize some books that will take us into the Halloween season without being too young for the young adult population to want to read the featured books.  I set out a couple of the Walking Dead graphic novels, Hold Me Closer, Necromancer, a couple of non-fiction books that have folktales and stories of the history of Dracula, and of course World War Z.  I can't wait to see it all finished!
Beyond checking out books, there were no classes scheduled in the LMC on this day, so it was really quiet.  A student aide helped us complete the updating process on the Surface Pros, and we made plans to do some cross-curricular instruction at a future date with the Sports Medicine class.  I have also made plans to work with the AP Language and Composition students on using the KYVL databases and to give the seniors the SRI assessment next Thursday.  I will be teaching all of these lessons and helping the counselors with student completion of the ILP as well.  Lots coming up in October for me!  It is interesting, however, that I had to solicit all these projects.  Not one of the teachers or counselors came to the LMS looking for assistance in teaching lessons.  I am not sure if this has to do with the culture among faculty or what, but it is sadly an underused facility.  It has become a place for students to use computers, largely.  I hope to build a much different LMC in my future.  I have learned many things, to be sure, but it just isn't a very used service or facility.